So it's late on a Monday night, I had to work today so I'm really tired... and right now the only thing I want to do is curl up into a ball and fall asleep... But for the sake of Teen Tuesday, I must post!
Plus, I read a lot this week.
I finished
Untamed
. I have very strong feelings on Zoey, the MC, which barely ever happens to me (as far as being picky about the characters). She was just... ugh, so annoying. Here is a
link
to my review, in case you're interested.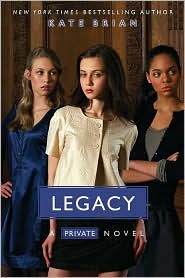 I also finished
Legacy
by Kate Brian, which is the sixth book in the Private series, which I absolutely adore. I had forgotten how much I love this series... I read the first five a year ago and then when Legacy came out I didn't have the energy to get into it again; but I decided to come back to it again and I am so. glad. I. did. Legacy was soo good... I don't have a formal review for my blog (I don't like to review books in series, because I've come to find that for most books in a longer series, there is consistency and reviews get to be boring... except in the case of Untamed, which the review was anything but boring to write) but if you're interested in a review, just mention it and I will link you to my Amazon page and you can read it on there. Or something.
After that, I read
House of Dance
by Beth Kephart. I read it so quickly on Sunday night, and I was just... awed. The book was so good; I am still thinking about it, so I don't have a review written just yet. But I know I will soon, because I have a lot of thoughts about it. Either way, a general summary: this book is ah-mazing, and highly recommended. Especially if you're looking for a quick, but very heart-lifting, book.
And now it's Monday night, and I am reading
Jars of Glass
by Brad Barkley and Heather Hepler. I'm a big fan of these author's books, and so I'm hoping Jars of Glass turns out well. I'm not extremely far into it, though, so I can't say too much yet. But if you wanna know more... come back next week :)
Now, I'm off to bed... and I'll be hoping for a snow day tomorrow... *looks at huge piles of snow and flying snowflakes* It's highly possible.
<3 Chelsie